This newsletter and the Squirrel Dialogues project are made possible by humans just like you. You can support me on Patreon, via Venmo and other things, and by sharing this newsletter.
I'm proud to announce that my brand Standard Rainbow is back in business with a line of collectible conversation pieces on the theme of trauma and healing.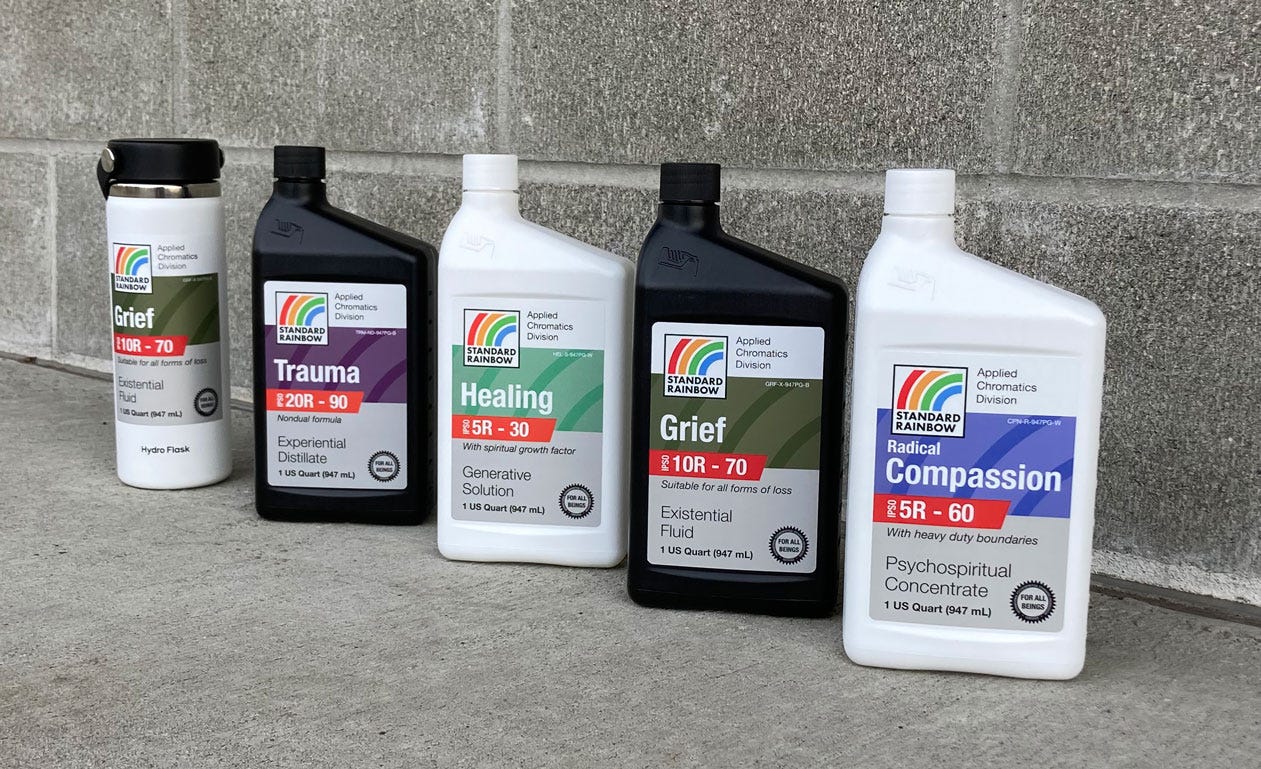 The story starts last summer, when I had one of my Ideas. The idea came in the form of a question: What if you could buy things like healing and trauma at Napa Auto Parts? And the vision came in my head of a plastic quart oil container with generic industrial branding, and a label reading "Compassion."
And I had a somatic response in the form of a sudden exhalation and noise, known as a laugh. And then I knew I had to make it real.
Something you should know about me: I'm mainly here to entertain myself.
I couldn't stop thinking about my idea. I started designing my idea.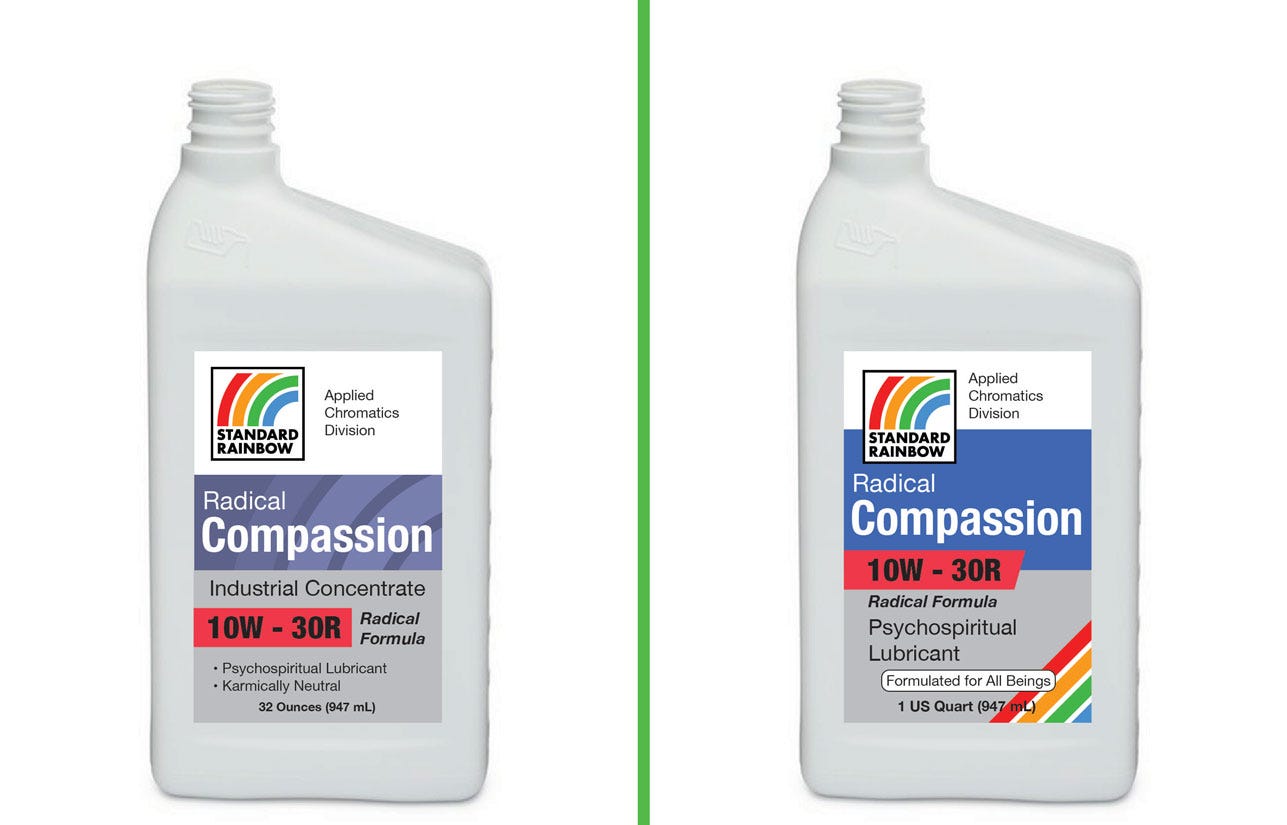 Then a bunch of life happened and I was much delayed in building my idea. But today I can announce that the idea is made real, and is now on sale at the Standard Rainbow Company. If you purchase in the next 30 days, shipping is free on orders over $50.
A life-affirming studio
If you've been following along you'll remember that Standard Rainbow is a brand I started in 2017. It has been dormant since 2019, but I can also announce that Standard Rainbow is back.
The Standard Rainbow Company has a new identity, as my creative studio. Here's our spiel:
Standard Rainbow is a creative studio specializing in life-affirming media and design. We are committed to serve the healing of the world through our creative efforts.
This new umbrella encompasses my media work (Squirrel Dialogues), and design objects like my psychospiritual containers and water bottle labels. It will soon include Squirrel merch (much requested).
Our goal is to expand into a brick and mortar production and design studio. I'm going to put the intention out now: A fleet of Standard Rainbow chromatic response vehicles, on-staff goats, artist residencies, and a show on PBS.
Psychospiritual Containers
I've been spending a lot of time with my psychospiritual containers, and I can say they are very charismatic in person, especially in groups. There's something about a shelf full of trauma that simply needs to be experienced.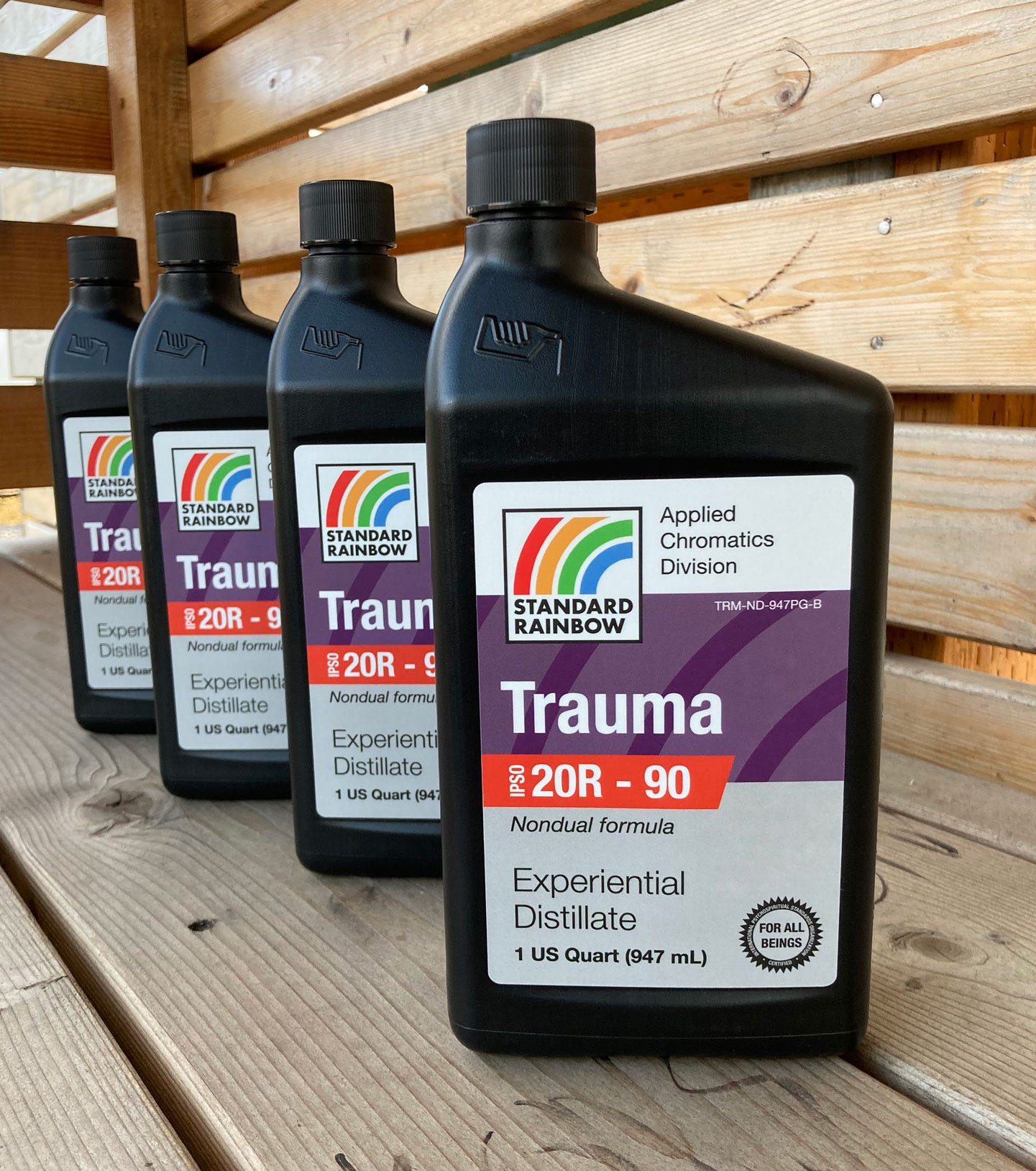 I'm pretty happy with the label design. The design brief was tough: auto parts store meets Thich Nhat Hanh (or Gabor Maté). The front labels had to be plausibly generic, which is harder than it sounds. In comedy there's the idea of the straight man (think Steve Carell). In this project, the design is the straight man.
The copy was particularly difficult. I needed it to be dry and technical, like the verbiage on the back of a quart of motor oil. But I was writing about high-order spiritual matters like healing, or the nondual complexity of something as freighted as trauma. It was like dancing on a knife edge, but with words. Really, my favorite thing to do.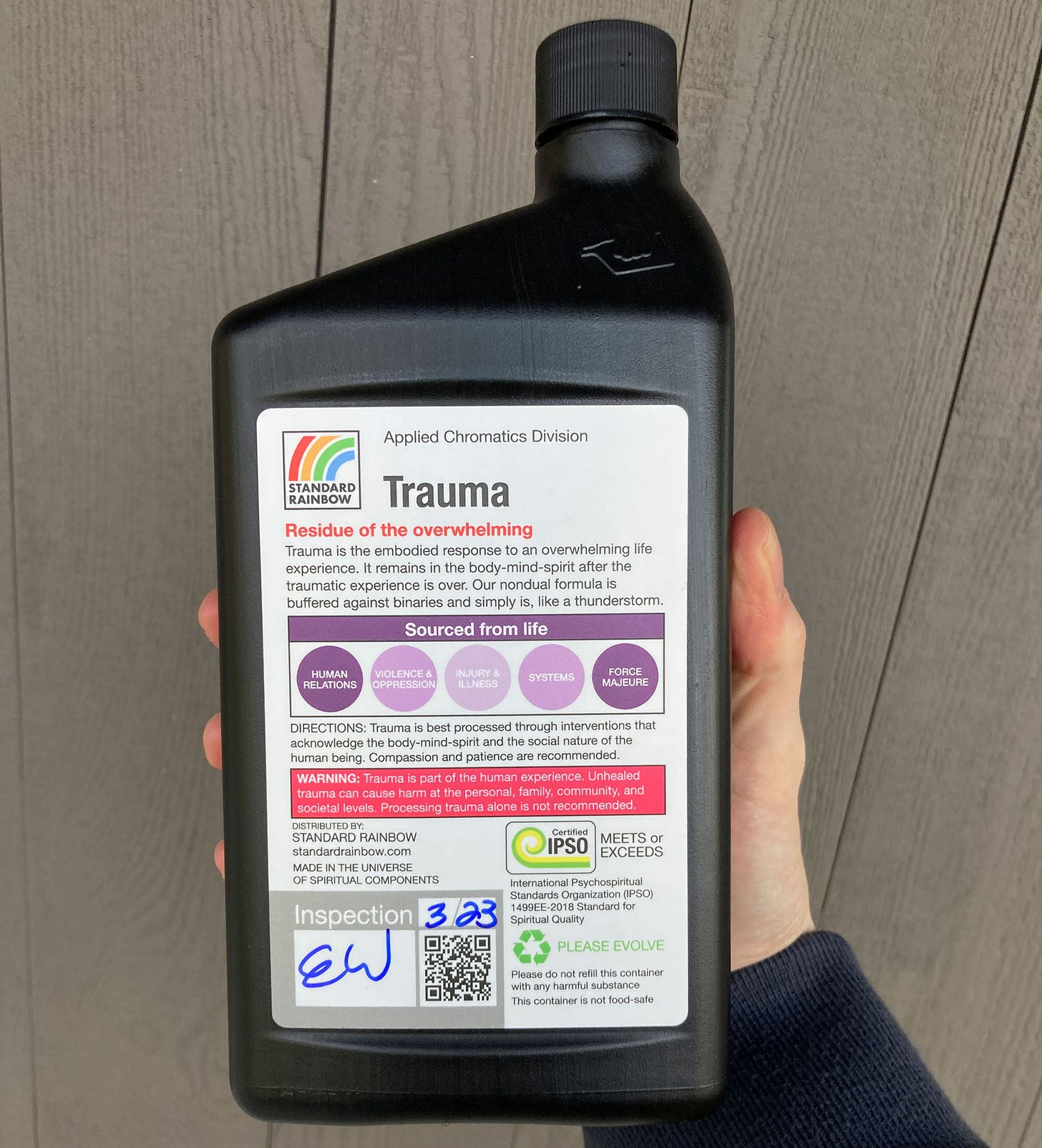 WARNING: Trauma is part of the human experience. Unhealed trauma can cause harm at the personal, family, community, and societal levels. Processing trauma alone is not recommended.
I'll tell you my favorite part: The International Psychospiritual Standards Organization (IPSO), a fictional international standards organization for matters psychospiritual. You'll be glad to know our compassion meets or exceeds the IPSO 1499EE-2018 Standard for Spiritual Quality.
And you'll be glad to know each Standard Rainbow object is inspected, initialed, and dated by me, Chief Color Officer Evan WL.
The most common question: What's inside them? The answer: Only what you bring.
For a variety of reasons, they're sold empty. I'll be interested to see what people fill them with… Though our legal department is discouraging people from filling them with toxic things, like motor oil. Or drinking from them, because they are authentic industrial containers and are not food-safe.
The original plan was for a line of quart containers only, but I slapped a label on my water bottle and discovered a second product line: Water bottle labels. There's something magical about drinking a cool draught of grief at a social gathering. Try it, you might like it.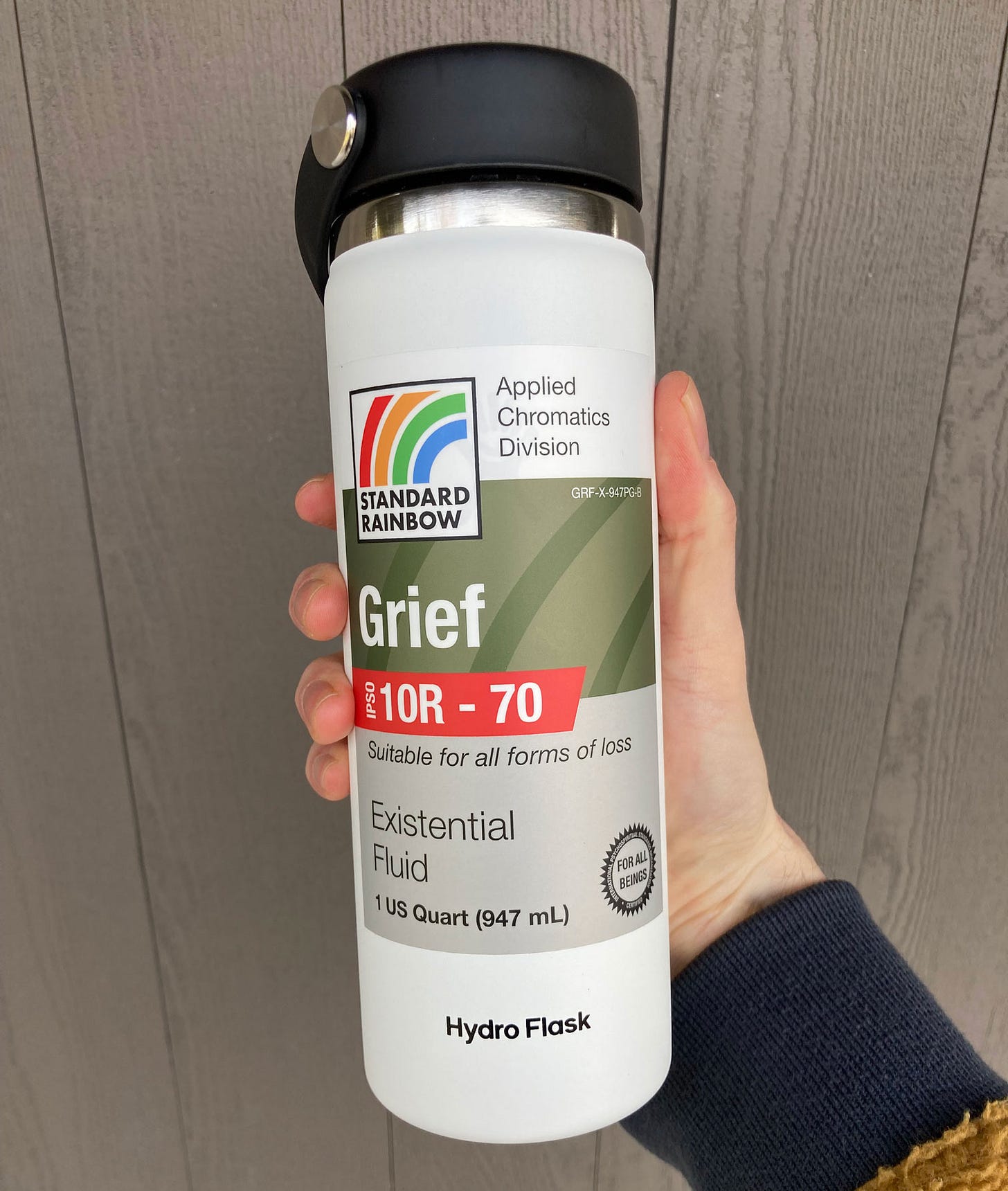 I'm most interested to see how these products sell. And particularly interested to see which products move the fastest. My instinct is that our black label products (trauma, grief) will outsell the white label (healing, compassion). I'll be sure to let you know.
STATEMENT OF NONDUALITY

To be clear, while we use black and white bottles, Standard Rainbow embraces nonduality in all our efforts. Trauma is neither bad nor good, it simply is, like a thunderstorm.
You can help this project along by sharing it far and wide, particularly to those who might be in the market for quarts of trauma and healing.
Squirrel News
I've been producing a flurry of Squirrel videos this winter, at a time when TikTok appears to be imploding as a content platform. Viewership is way down, which is disheartening. I'm looking now to Instagram as my primary platform, but my viewership there is still early days.
I am particularly pleased with this video on collapsing:
Other News
I've been performing weekly open mics on Orcas Island for more than a month. In my previous life, in California, I used to perform live at open mics and on the street. I'm just now revisiting that part of me.
In the past I was primarily a satirist, focused on cultural criticism. I've returned to the mic with a new agenda, around trauma and healing. The response has overall been very positive. Who knows, maybe someday I'll perform for you. At present, I've been posting audio recordings to my Patreon.